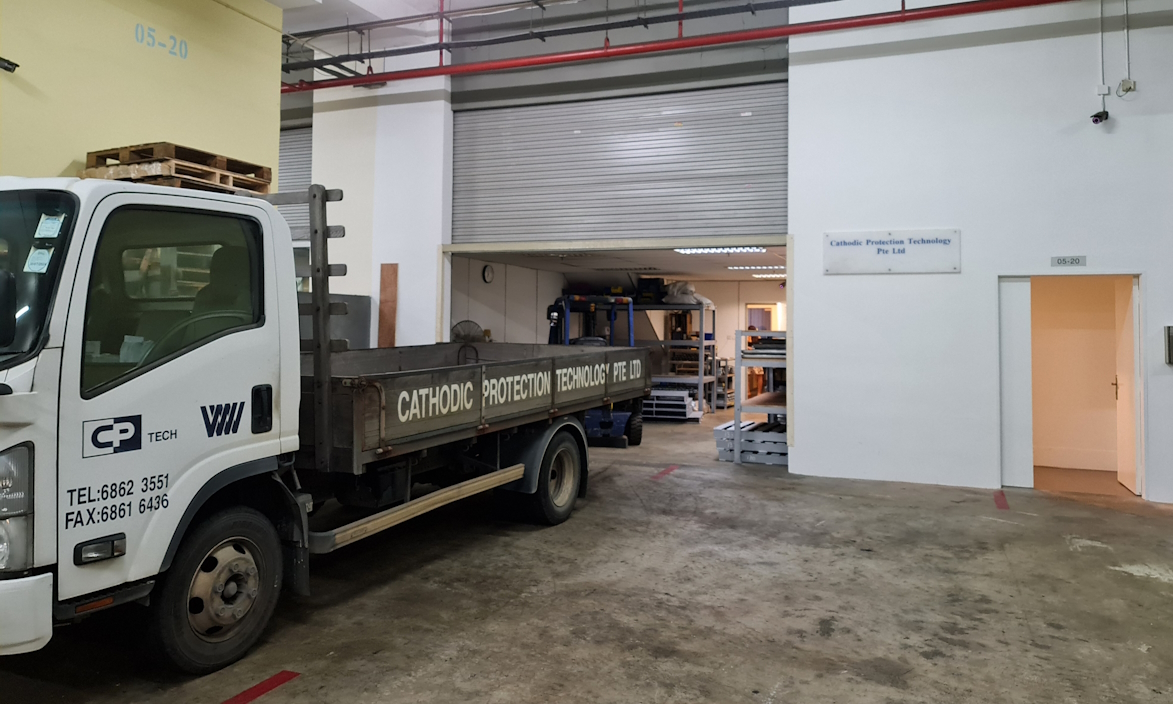 About CP Tech
Cathodic Protection Technology Pte Ltd (CP TECH) specialises in the design, manufacture and servicing of cathodic protection (c.p.) and marine fouling prevention systems. A team of highly qualified and experienced engineers, including NACE-accredited c.p. specialists, provides the technical expertise and skill to support the company's manufacturing activities, covering both sacrificial anode and impressed current c.p. systems for all applications.  The company has one of the largest sacrificial anode foundries in the world and manufactures both zinc and aluminium sacrificial anodes, including its own proprietary GALVALUM® anodes.  CP TECH's GALVALUM III® alloy has undergone long-term testing and Type Approval by Det Norske Veritas (DNV), and comply with DNV's recommended practice B401 and NORSOK Standard M-503 Cathodic Protection Long Term Testing.
In operation since 1982, the company was known previously as Impalloy Singapore (1993) Pte Ltd. In 1999, CP TECH acquired Wilson Walton Eastern Pte Ltd and their related marine and offshore galvanic anode business in Asia including a foundry in Malaysia and the exclusive rights to the use of the Wilson Walton brand name for such business in certain territories in Asia. The well known Wilson Walton range of marine galvanic anodes further enhances CP TECH's expertise in the offshore, onshore and marine cathodic protection systems.  CP TECH's wholly-owned subsidiary in Malaysia, Cathodic Protection Technology Johor Sdn Bhd, was established in the same year.
CP TECH operates from modern purpose built plants, offices and warehouses in Singapore and Malaysia. The company has designed and manufactured some of the largest and most significant cathodic protection systems currently in use for industrial and offshore applications in various parts of the world.  CP TECH is committed to providing good quality products and services on time and at competitive prices, as evidenced by the quality of its staff and accreditation of its Quality Management System to ISO 9001 by Det Norske Veritas (DNV) for the design and manufacture of cathodic protection systems since 1994.
The company's head office is in Singapore and is located together with the manufacturing plant on a 4,400m² site at Tuas, Singapore's major industrial area and has abuilt up area of 1,500m².  In Malaysia, the facility is located in the Senai Industrial Estate, Johor, about half an hour drive from Singapore and has a land area of 4,000m² and built up area of 2,500m².
Both the Singapore and Malaysia plants are well equipped and structured to handle the most demanding specifications in cathodic protection. Production, engineering and design, R & D, laboratory testing, quality control and marketing are all located close to each other, enabling the company to handle any project in the most expedient manner.  The combined annual capacity of both the plants is in excess of 10,000MT each of zinc and aluminium anodes.  For aluminium production, induction furnaces are used mainly to ensure minimum risk of contamination and maximum homogeneity of finished products.
CP TECH's products are used in three major areas:
With over thirty years of experience in supplying to the offshore industry throughout Asia, CP Tech fully understands the stringent requirements in this area.
It has designed and provided systems in zinc and aluminium totaling more than 100,000 tonnes to major offshore projects including:
Angel/Pluto/PNG/TSEP (Australia)
Sakhalin I /Sakhalin II
Green Stream Project (Italy/Libya)
Pailin/Bongkot Projects (Thailand)
Dulong/Sotong /EPMI/Various Projects (Malaysia)
Chirag1 (Azerbaijan)
Sabratha Project (Libya)
MNW Project (India)
Yoho Project (Nigeria)
OGGS Project (Nigeria)
Takula Platform (USA)
Larut Project (Malaysia)
PTT Pipeline (Thailand)
Petrobas P-27/33/35 (Brazil)
Panyu Project (China)
Olie Pipeline (Norway)
Crude Terminal (Sri Lanka)
ARCO - Yacheng 13-1/Pinghu (China)
Blue Stream Project (Black Sea)
PTT/ TTM/CUEL/TNS/Various Projects (Thailand)
Japanese Projects (Japan)
Bayu Undan Gas Project (Australia/EastTimor)
Wanaea Cossack, Goodwyn, ESparP rojects (Australia)
Masinloc Project (Philippines)
East Java Gas Pipeline, Ardjuna Project (Indonesia)
Guntong, Seligi, Lawit, etc Projects (Malaysia)
Funan, Platong, Surat Projects (Thailand)
MLNGII Offshore Project (Malaysia)
Ampa-Fairley Rationalisation Project (Brunei)
Cabinda & Lombo Projects (Africa)
Yadana & Yetagun Projects (Myanmar)
Benchamas, Tantawan Fields (Thailand)
Pinghu, Weizhou Projects (China)
L-II, L-III, NQP, NPC, HX, HY, Heera, CRMP (India)
CP Tech also has the experience and expertise in designing and providing cathodic protection systems for buried applications such as cross-country pipelines, plant complexes, tank farms, power stations and jetties.
Site surveys and consultancy are carried out as an integral service.
Some projects include:
Haldia & Dahej Jetties (India)
Java Pipeline Network (Indonesia)
Cafhi, SRC, Oiltanking Jetties (Singapore)
CBK, Talinpu Terminal (Taiwan)
Jerudong Marine Development (Brunei)
Caltex / PCS to SRC Pipelines (Singapore)
Gas Transmission Pipelines (Singapore)
Seletar Sewage Treatment Works (Singapore)
District Gas Systems Pipelines (Hong Kong)
Arutmin Jetties (Indonesia)
MWA Pipelines (Thailand)
PVGC Bullet Tanks & Pipelines (Vietnam)
Pulau Seraya Power Station (Singapore)
Jurong Island Reclamation Project (Singapore)
MTBE, GPP, Petronas Melaka Refinery Projects (Malaysia)
Changi Reclamation Projects Ph 1A, 1, 2 & 3 (Singapore)
CP Tech specialises in the design, manufacture, installation, supervision and service of marine cathodic protection systems including both galvanic and impressed current systems as well as electrolytic anti-fouling systems to prevent marine growth.
CP Tech also offers the full range of Wilson Walton marine galvanic anodes. Major oil companies and independent tanker operators as well as many bulk carriers and general cargo ship owners are among CP Tech's customers.
A team of qualified and experienced engineers helps to provide a full range of services including:
Preliminary design and budget information.
Supervision of installation and commissioning.
System maintenance.
In-depth design/engineering studies to support the choice of system proposed.
Complete survey and inspection of new and existing facilities.
Manufacture and supply of all materials and auxiliary equipment.
To print our company profile, please click HERE